The Hofvijver seen from the Korte Vijverberg
This painting overlooking the Hofvijver is one of the most famous works by Paulus Constantijn la Fargue. The impressive government buildings of the Binnenhof on the left and the patrician houses on the Lange Voorhout on the right are beautifully reflected in the water here. In the foreground, a very mixed group walks in the morning sun on the Korte Vijverberg: from elegantly dressed ladies with fans in their hands and gentlemen with walking sticks to a man in a gown, a soldier and some working people. On the left, a costly carriage drawn by two horses, carrying a wealthy young man, arrives.
Read more
The view of the Hofvijver from the Korte Vijverberg is a favorite subject for painters who have been involved in cityscapes. From the sixteenth to the twentieth century, many artists depicted this face. La Fargue applied this theme at least five times. This descendant of a family of artists from The Hague, whose three brothers and sister were also painters, initially concentrated on making room wallpaper. From the 1860s, La Fargue specialized in drawing, etching and painting city and village views and later also current events, landscapes, portraits and genre scenes. Initially, his topographical works were limited to cityscapes of The Hague and Rotterdam, but from the 1970s he also sketched in the vicinity of Delft, Leiden, Katwijk, Haarlem and Amsterdam, among others.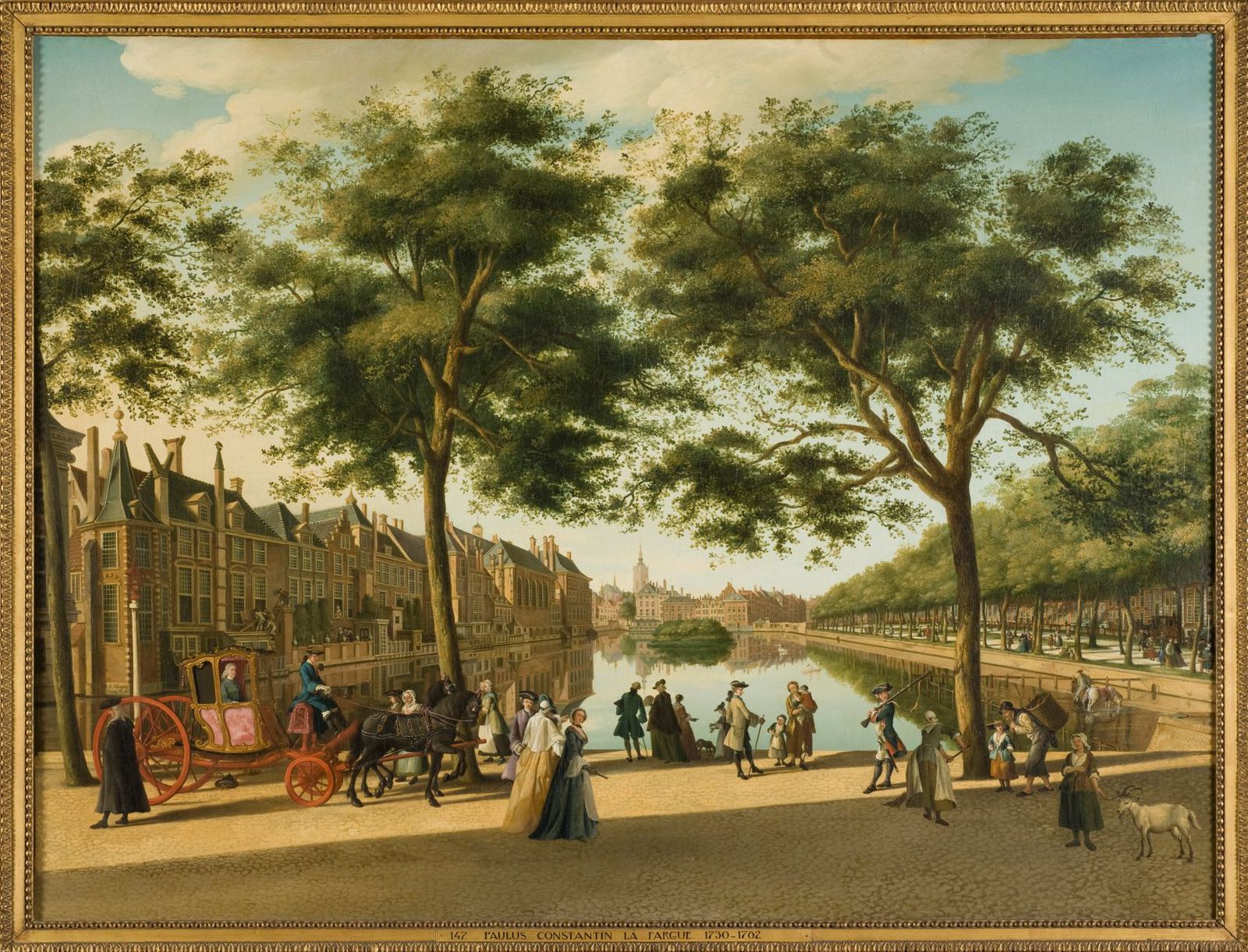 Paulus Constantijn la Fargue, The Hofvijver seen from the Korte Vijverberg, 1762
Specifications
Manufacturer: Paulus Constantijn la Fargue
Date: 1762
Object number: 1902-0001-SCH
Materials: wood, canvas, oil paint
Dimensions: 114 x 145 cm
Literature (Dutch)
Charles Dumas, Haagse stadsgeszichten 1550-1800. Topografische schilderijen van het Haags Historisch Museum (Zwolle 1991)  430-436.