Map of The Hague in 1570
Those who know the current size of The Hague well will probably look endeared at the small size of the city on this old map. The painting depicts the situation in The Hague in 1570, as can be read at the top behind the text 'Haga Comitis in Hollandia' ('s-Gravenhage in Holland). The map is therefore one of the earliest cartographic images of the city. The buildings are depicted in revolt and the streets and squares are filled with people, which gives us a wonderful insight into sixteenth-century The Hague. Boats sail on the Hofvijver, horses gallop across the Buitenhof and citizens have gathered around the Groene Zoodje to witness an execution. The Binnenhof presents itself as a true castle with a double moat and drawbridge. At the bottom left of the map, a man and woman squeeze out, under the watchful eye of the animals in the field. You can guess where they are headed. But how surprised that man and woman would look if they suddenly stepped into a modern map of The Hague from that map.
Read more
This painting was not painted in 1570, but only in 1663. In that year, the council of The Hague commissioned the painter Cornelis Elandts to copy the original from 1570, presumably because it was in poor condition. The original was later lost. It is also remarkable that this map is painted: maps were mainly printed or drawn as prints, but only rarely painted.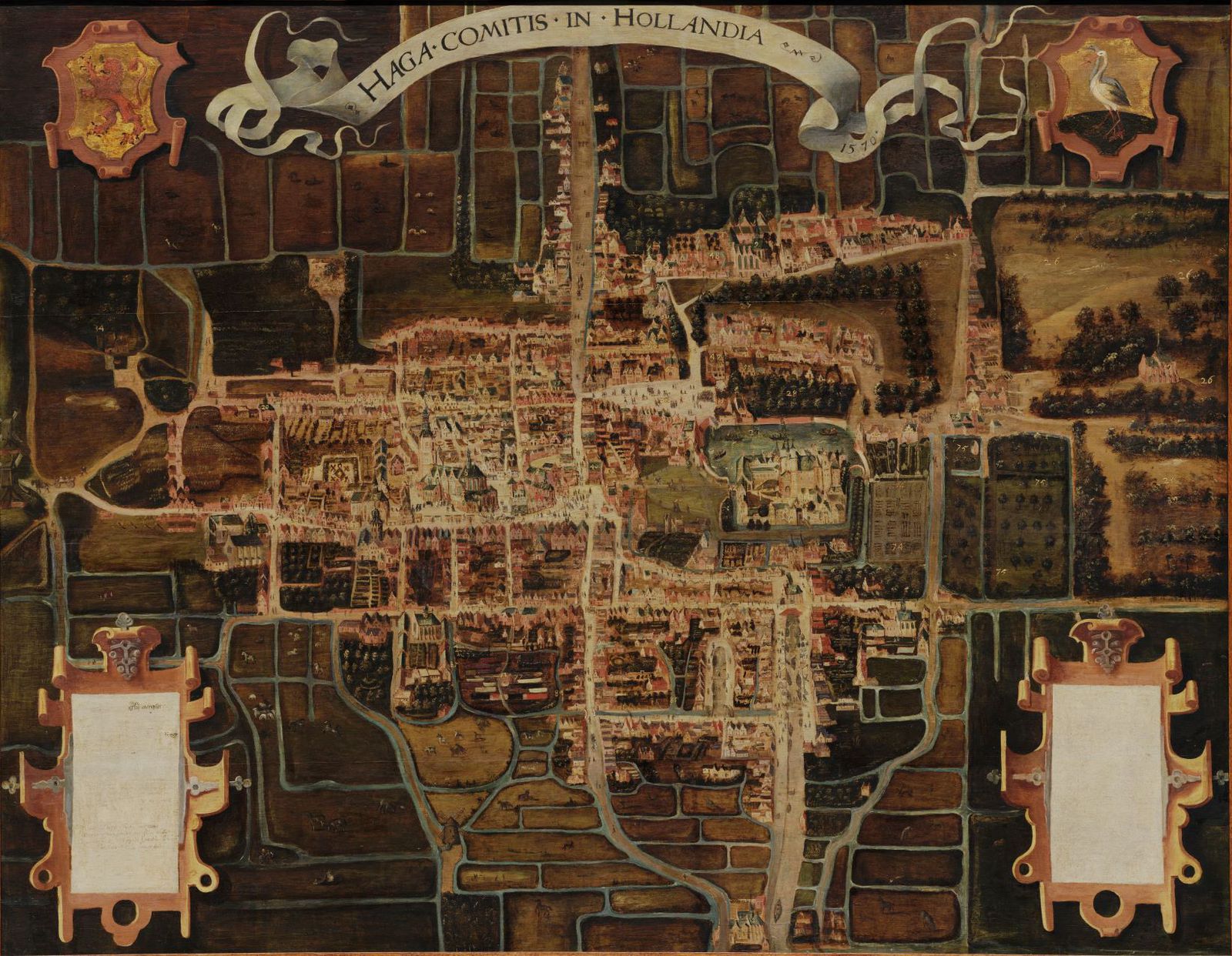 Cornelis Elandts, Map of The Hague in 1570, 1663
Specifications
Manufacturer: Cornelis Elandts
Date: 1663
Object number: 0000-0051-SCH
Materials: wood, oil paint
Dimensions: 120,4 x 154,7 cm
Literature (Dutch)
Charles Dumas, Haagse stadsgezichten 1550-1800. Topografische schilderijen van het Haags Historisch Museum (Zwolle 1991) 380-390.