The bourgeoisie of The Hague walks along the Hofvijver, while a battle has broken out on the water between a few boats. From the beginning of the 16th century, these so-called water jousts regularly take place on the Hofvijver, but in our painting from the mid-16th century this spectacle is depicted for the first time. In the distance we see the Grote or Sint Jacobskerk, surrounded by the village of Die Haghe, the predecessor of The Hague. At the top of the painting, the banderole and the coats of arms of Holland and The Hague are surrounded by a flock of storks. There is even a stork's nest on the roof of the Ridderzaal. Traditionally, the count's court has been associated with these birds.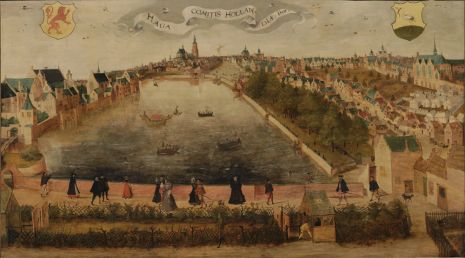 The Hofvijver 
During the 16th and 17th centuries, the Hofvijver was the landmark of The Hague. Especially because of the surrounding buildings, this area is a favorite subject for many painters of that time. This painting depicts the Hofvijver from the Doelenterrein with the shooting range of the Sint-Sebastian militia in the foreground. Here a shooter practices his skills. In the period 1636-1638, the Sint-Sebastiaansdoelen was erected on the site of the wooden militiaman's cottage; the current building of the Haags Historisch Museum.
Our painting is a variant of a work by an anonymous painter of the Hague School from 1553. The Hofvijver and the surrounding buildings can also be seen from above. Yet it is not a direct copy, because the maker of our painting has tried to depict the political and religious tensions in the city after the Iconoclastic Fury of 25 August 1566. On the right of the painting, on the Lange Voorhout, a tent camp has been set up with a group of soldiers to its left. These are probably the troops of commander Alexander Torck. In addition, a group of people are gathered under the trees of the Lange Vijverberg to hear a hedge sermon, and above it a Catholic priest seems to be executed on the Groene Zoodje.