Identity card of George Maduro
George Maduro received this identity card after his release from the 'Oranjehotel', the notorious prison in Scheveningen where opponents of the Nazi regime were locked up. Because of his Jewish descent, the letter J was stamped next to his photo, which was later cut off. The identity card also bears the square 'Calmeyer stamp' that was given to a limited number of Sephardic Jews. It meant that, for the time being, they would not be called up for transport to a camp in Eastern Europe. During his imprisonment in the Oranjehotel, Maduro converted to the Christian faith.
Read more
George Maduro was born on July 15, 1916 in Curaçao, into a wealthy Sephardic Jewish family. George was destined to one day lead the family business - with branches in Curaçao and New York, among others. At the age of ten he came to the Netherlands to go to school in The Hague and later to study in Leiden. At the outbreak of World War II, young Maduro fought as a reserve officer in the Battle of the Residence. He then joined the resistance. He was detained twice in the Oranjehotel. When he tried to flee to England via Spain in 1943, he was betrayed along the way. He died on February 8, 1945 in the Dachau concentration camp. After the war, Maduro was posthumously appointed as a 4th class knight of the Military Order of Willems because of his courageous actions during the May days of 1940. His parents donated the starting capital for the construction of Madurodam; a living monument to their son.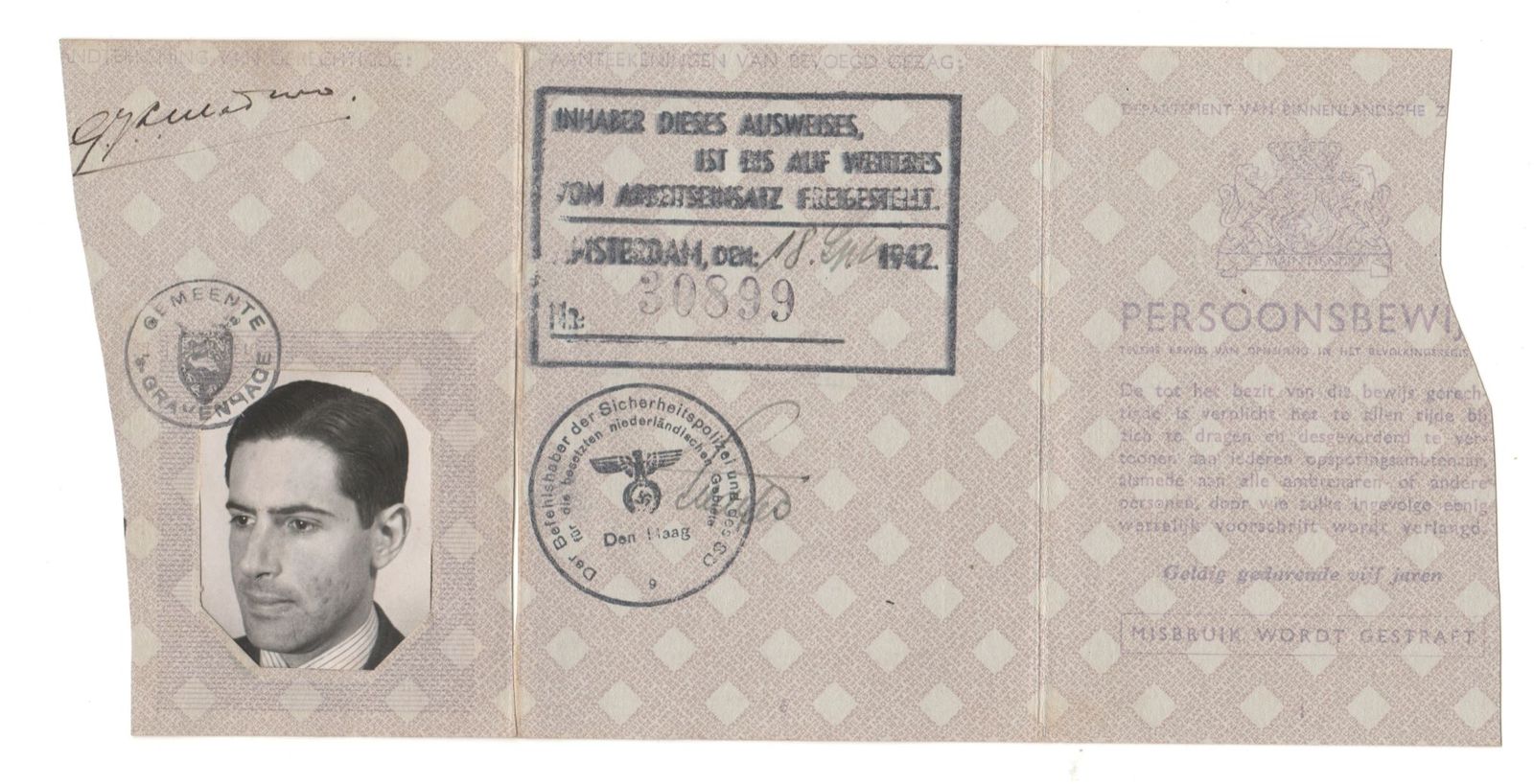 Identity card of George Maduro, 29 december 1941
Specifications
Date: 1941
Item number: 2018-0001-ODI
Materials: paper
Dimensions: 21.2 x 10.5 cm
Literature
Kathleen Brandt-Carey, Ridder zonder vrees of blaam. Het leven van George Maduro 1916-1945 (Houten 2016).