The Buitenhof during the fair in The Hague, seen towards the Gevangenpoort (Prison Gate)
This painting has seven busy stalls, which depicts the so-called Meimarkt or Hofkermis on the Buitenhof. The painting was made by Hendrik Pothoven in the year 1781, a period in which the fair in The Hague experienced its heyday. The tradition of this fair goes back to the beginning of the fifteenth century, when Count Willem IV introduced an extra annual fair in the month of May. So the fair began as an ordinary market for merchandise, but later grew into a center of entertainment with performances by choir dancers, acrobats and trained animals. We see such a performance on the right of our painting. To musical accompaniment, a dog walks on its front legs, while four other dogs watch, dressed in jacket and wig or sitting on the back of another four-legged friend. This painting also shows that the fair was not only loved by the common people. Left in the middle none other than stadtholder Willem V and his family are looking at one of the stalls. In addition to two ladies-in-waiting and lackeys, the family's retinue also includes two black servants: Willem Frederik Cupido and Juan Anthony Sideron. As children they were given, presumably by the West India Company, to stadtholder William V. They remained in his service until their death.
Read more
The Meimarkt started in the fifteenth century as a so-called free market, which means that someone who had debts could not be arrested during the duration of the market. This provision was created to attract as many merchants and buyers as possible. This meant that The Hague was visited by many unsavory types in the month of May. In any case, it will not have been boring at the fair in The Hague.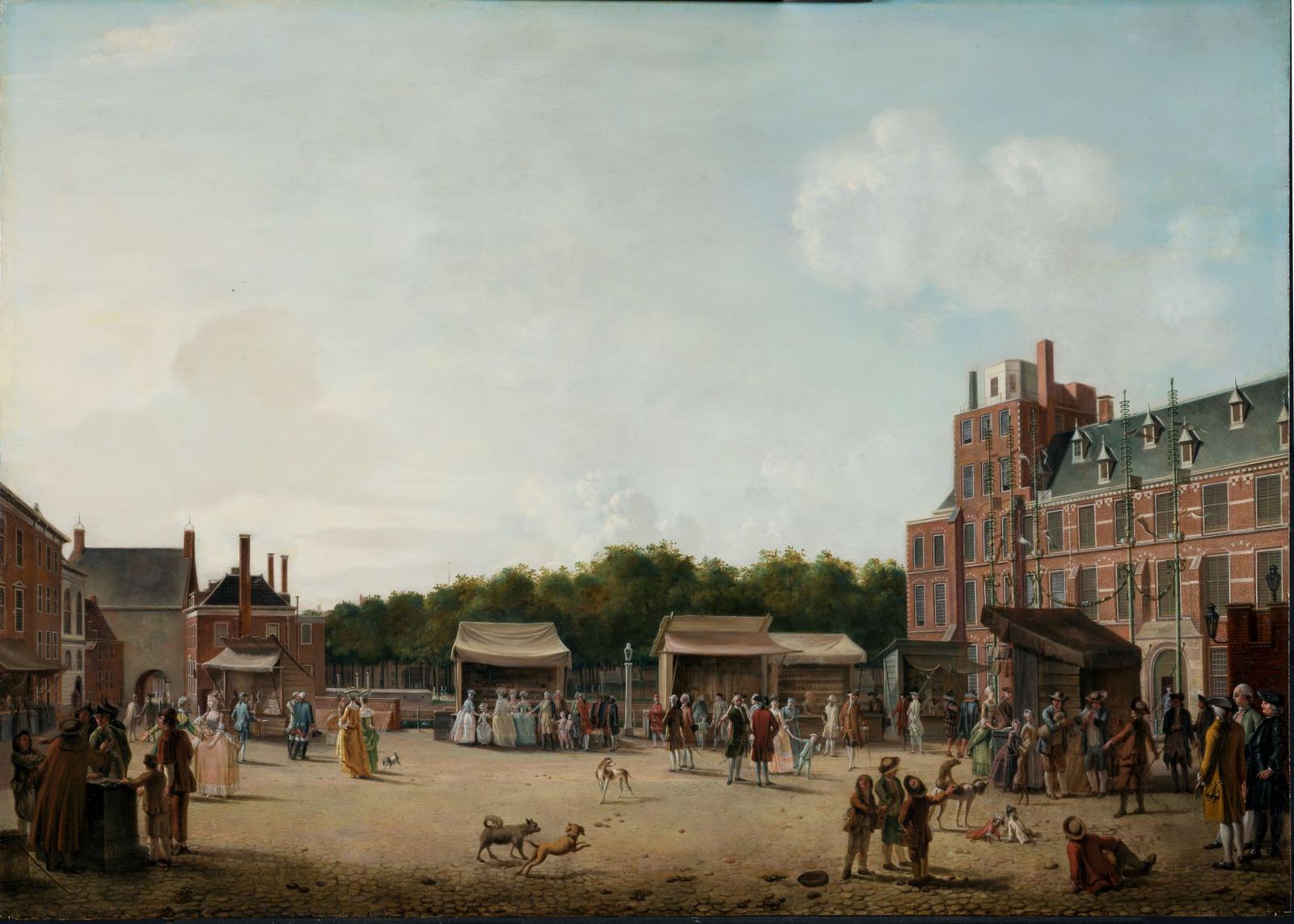 Hendrik Pothoven, The Buitenhof during the fair in The Hague, seen towards the Gevangenpoort (Prison Gate), 1781
Specifications
Manufacturer: Hendrik Pothoven
Date: 1781
Object number: 1926-0014-SCH
Materials: panel, oil paint
Dimensions: 85 x 61.2 cm
Literature (Dutch)
Charles Dumas, Haagse stadsgezichten 1550-1800. Topografische schilderijen van het Haags Historisch Museum (Zwolle 1991) 583-592.