The full furnishing reflects the interior design of the upper classes of the time. Not suggesting spaciousness but decorating the rooms was the main purpose. The large dollhouse originated from an older dollhouse that Lita used to play with in her youth. In August 1908 she submitted it for the exhibition Opvoeding van het kind (Education of the child). The interest in the dollhouse from her childhood was great. Friends came up with new miniatures, so that the house soon became too small. Lita wanted to enlarge the doll's house, but Herman Ros, teacher at the craft school, advised her to build a whole new dollhouse. In September 1910 the house was finished and the flag was hoisted on the ridge of the roof.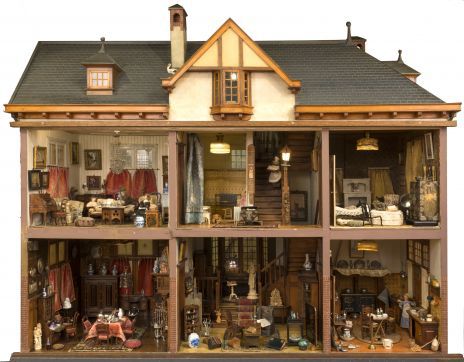 The dollhouse of Lita Ranitz
With her commission to build the large dollhouse, Lita restored the tradition of the dollhouse as a showpiece. Wealthy collectors displayed their collection of rarities in these rooms and closets. From the outside, the first dollhouses also looked like an ordinary cupboard, but when the doors were opened the richness of the interior was revealed. The rooms were usually decorated in great detail. Wooden objects were made by experienced wood carvers and cabinet makers, and silver miniatures were made by specialized silversmiths. Assembling these dollhouses was an expensive hobby and therefore only reserved for the richer people. The interior of this large dollhouse by Lita is unique in particular because of the collection of miniature paintings. Artists such as Toorop, Gabriel, Mauve, Jongkind and Arntzenius made small works for this special dollhouse. The modern appearance of this villa is mainly due to things such as electric light, a bathroom with bath, a telephone and central heating. Facilities that the 'common man' could only dream of in those days.