Stereo color slide of a Canadian carrier on the Buitenhof during the Liberation, 8 May 1945
After five years of German occupation, exuberant residents of The Hague welcome a battalion of Canadian soldiers from the First Canadian Infantry Division at the Buitenhof. What is special about this photo is not only that it is in color, but also in '3D'. In other words, the photo forms a slide pair with another photo, which when viewed with the right 'viewer' (for example, 3D glasses) produces an image with depth. The maker of this photo was the resistance photographer Wim Berssenbrugge (1918-2007) from The Hague. During the Second World War he made hundreds of color stereo photos, including domestic scenes, portraits and theater performances. But also unique images of The Hague shortly before and after the Liberation: a food drop, the damage from the bombing of the Bezuidenhout, the arrival of the Allies, the departure of German soldiers, etc. Because these photos are in color and in 3D , the events of '45 enter the viewer in a penetrating way – as if we were there ourselves.
Donation by Mrs T.A.M. Berssenbrugge-Driessen, 2010
Read more
In addition to making stereo photos, Wim Berssenbrugge was also active in the resistance during the Second World War. As a member of the espionage group Organization G, he made recordings of secret documents that were sent to England. From his window he also photographed the launch of a German V2 rocket from the garden of the Peace Palace - the only known photo of such a rocket in full flight over the Netherlands.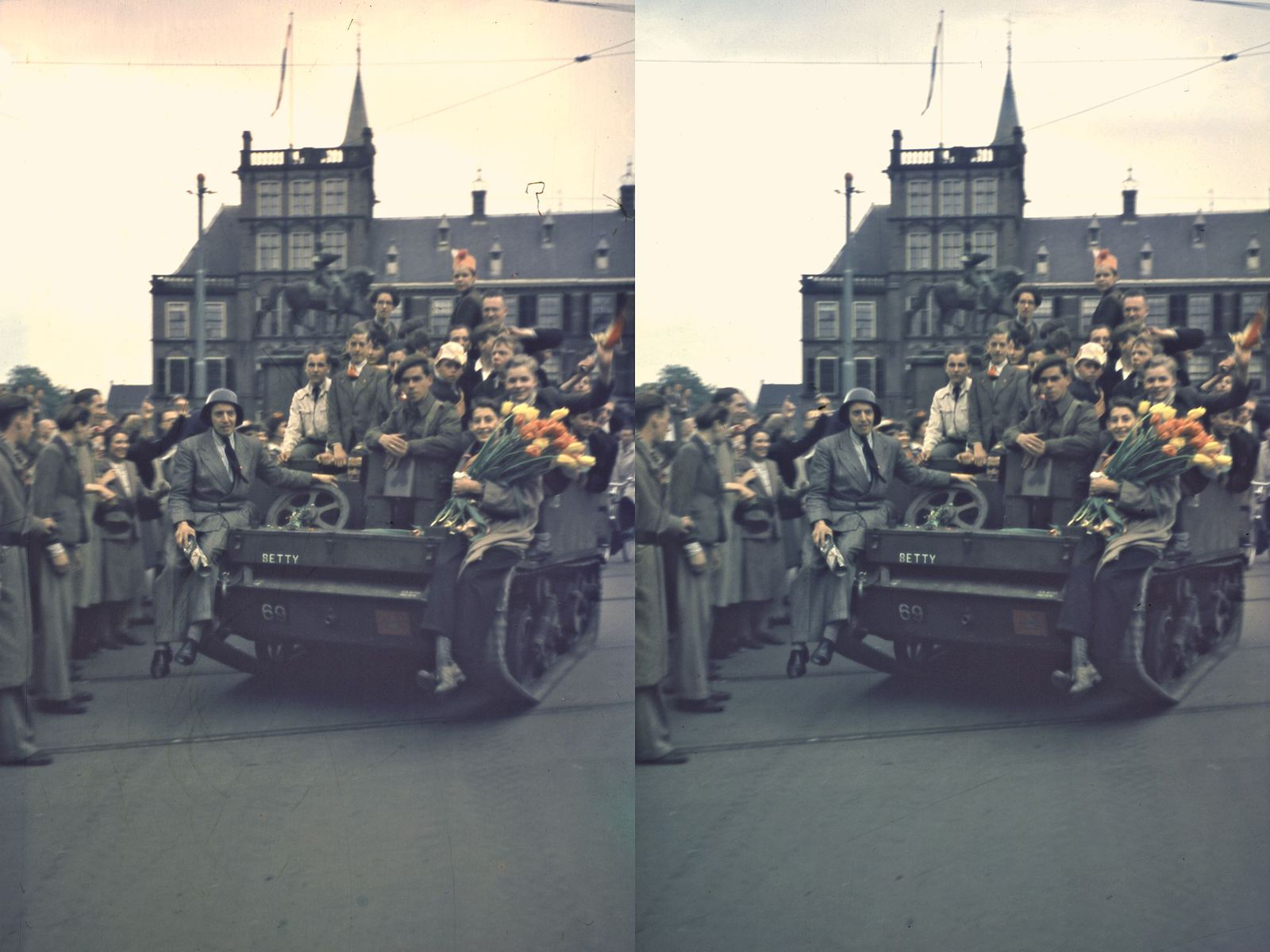 Wim Berssenbrugge, Stereo color slide of a Canadian carrier on the Buitenhof during the Liberation, 8 May 1945


Specifications
Manufacturer: Wim Berssenbrugge
Date: 1945
Object number: 2010-0321-PRE/a-b
Materials: Agfacolor stereo slide pair
Dimensions: 24 x 36mm
Literature (Dutch)
Johan Degewij, Wim Berssenbrugge: Haags verzetsfotograaf (Den Haag 2010).