Sash of a 'Representant'
How do you recognize a representative of the people? It sounds like the beginning of a bad joke, but the question was very real to the members of the first National Assembly in 1796. This National Assembly was the first democratically elected parliament in Dutch history. The symbolical meeting place was the former ballroom of the expelled governor William V on the Binnenhof – the place where the House of Representatives later met for a long time. The proposal to give the 126 members a 'Distinctive Sign' led to mixed reactions among members. One of them thought that a member of parliament should distinguish himself 'by excellent and useful deeds, and not by fine ribbons or decorations'. They eventually came up with a simple sash with the inscription 'REPRESENTANT'. That word was supposed to underline the democratic mandate of the 'representatives': they represented the people.
Read more
The sashes have only been in use for a short time. A proposal to measure the members of the National Assembly in an official dress did not make it. Although such an official costume was common in revolutionary regimes, the Dutch representatives thought this type of outward appearance was more suitable for monarchs and rulers. A representative of the people should be distinguished by virtue, not by 'a garment which seems to mark prodigality'.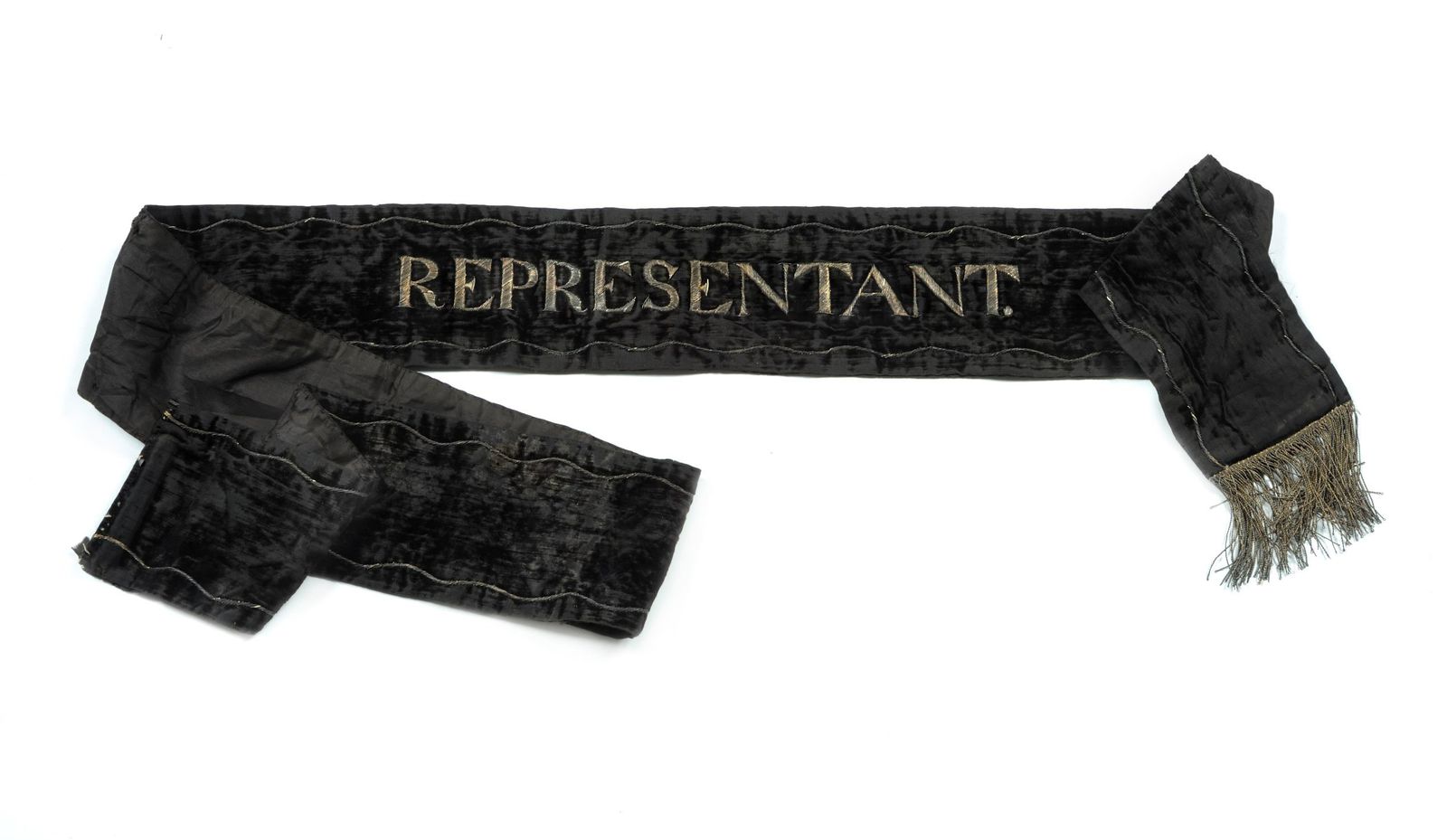 Sash of a 'Representant', approx. 1796
Specifications
Manufacturer: unknown
Date: 1796
Object number: 0000-0096-HHI
Materials: velvet, cotton, silk, metal thread
Dimensions: 10.0 x 185.5 cm


Literature (Dutch)
Lauren Lauret, Regentenwerk: vergaderen in de Staten-Generaal en de Tweede Kamer, 1750-1850 (Amsterdam 2020).