The five angels in the sky represent the deceased children of the couple. Pellegrom, the youngest son, was born after the completion of this portrait. Three years later, standing next to his father's knee, he is still immortalized in this work. That is why the painter Johannes Mijtens dated the work twice: the first time in 1652 (bottom right of the center) and the second time in 1655 (on the sleeve of the youngest child). As an advisor to Amalia van Solms, Van Kerckhoven belonged to the 17th-century elite of The Hague. The colorful and refined (fantasy) clothing in this painting reflects the prosperity of this family, while the presence of the dark-skinned servant in the background is a reference to her high social status.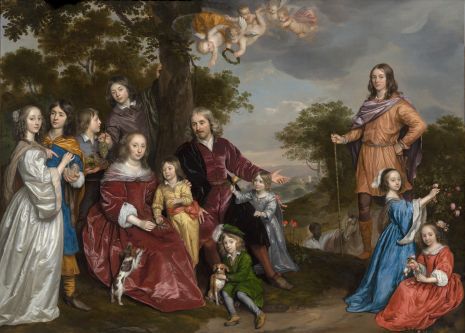 The Van den Kerckhoven family
It is highly probable that the servant never posed for the painter with the Van den Kerckhoven family and he may never have existed. This person is first and foremost a 17th century status symbol; meant to show the wealth of the family. The painting also contains all kinds of references to good virtues. The fruits and flowers are an allusion to love, marital chastity and fertility, while the dog with the mother represents fidelity. Such motifs occur regularly in Mijtens' work. Yet the attributes held by the family members are not all invented by the painter himself to give the work a symbolic charge. When the family portrait was donated in 1870, the walking stick and nautilus shell painted on this work were also donated to the Gemeentemuseum. For years these objects have been exhibited in a display case opposite the painting.