A lock of hair from the Hofkapel at the Binnenhof
Many historical figures are buried under the former Hofkapel at the Binnenhof. Count Albrecht van Beieren, Jacoba van Beieren and Johan van Oldenbarnevelt, among others, have their final resting place here. In 1879 the chapel was demolished to make way for new office spaces for the Ministry of Water Management and the Senate. On that occasion, the historic tombs and tombs were opened and research was conducted. At the time, this lock of hair was taken by an official of the Ministry of the Interior, which was then still located at the Binnenhof. During a visit to the Hofkapel in 1879, he said he stood for a while at an open grave and 'I waited for a moment until I was alone. When that moment had come, I got out a pair of scissors and cut off a lock of hair. It only took a second. The piece attached is half of that lock of hair."
Read more
This official was convinced that the lock of hair came from the dead body of Aleid van Poelgeest. Hence, her name appears on a note attached to the lock of hair. However, it is highly unlikely that the hair belongs to Aleid van Poelgeest, as she is not known to have been buried in the Hofkapel. To whom the hair once belonged, remains a question to this day.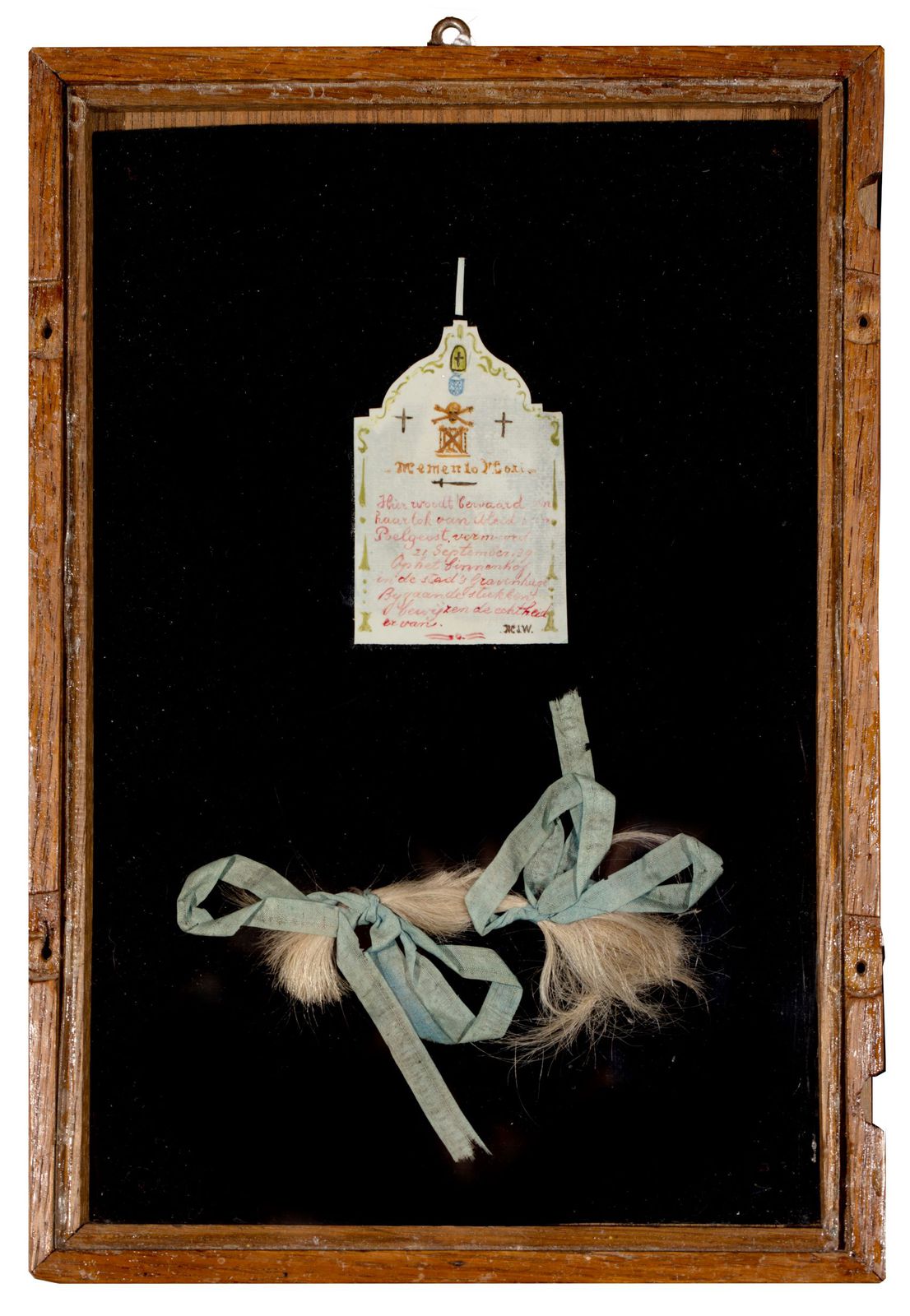 A lock of hair from the Hofkapel in the Binnenhof, year unknown
Specifications
Date: unknown
Object number: 0000-0762-HHI/a-b
Materials: hair, ribbon.
Dimensions (frame): 36.0 x 37.0 cm
Literature (Dutch)
M.A. van Veen, Het grafelijk en stadhouderlijk hof Den Haag: een overzicht van opgravingen en waarnemingen van 1770 tot en met 2013 (Den Haag 2015).