Colonial The Hague - an unfinished past
2023-03-25T00:00:00+01:00
2023-09-03T23:59:59+02:00
The Hague Historical Museum presents an exhibition about the colonial past and present of The Hague, seat of the Dutch government throughout the centuries.
The colonial past is present in The Hague in many ways. In our language, music, food, festivals, commemorations and architecture. In the former Department for Colonies there are still portraits of the administrators of that time. What role did our government city play in the Dutch colonial system?
Decisions with major consequences
Decisions made in The Hague once had major consequences for millions of people far away: in Indonesia, in Surinam and in the Caribbean parts of the Kingdom. Over a period of more than three centuries, these areas were governed by one dominant motive: maximizing profit. A policy that was accompanied by oppression of the indigenous population, disenfranchisement, violence, slavery and the suppression of any form of resistance.
Colonial history of The Hague
Well-known historical persons such as Johannes van den Bosch, who introduced the Cultivation System in Indonesia, and Tula, leader of the Curaçao slave revolt of 1795, are presented in a new context. There is also attention for lesser-known people. For example, the enslaved Virginie van Gameren who, after a long legal process, extracted her freedom and that of her children from the Department for Colonies and chose her own name. Or Pangeran Adipati Soejono, the only minister of Indonesian descent in a Dutch cabinet. He campaigned for more self-government. All these historical persons give face to the impact of the colonial system.
Created together with, for and by the city
In 2022, the museum called on fellow citizens to share their story and object about the colonial past and its contemporary impact. Which personal object tells an important story about this? And what does this item mean to you?
The museum organized group discussions together with Dutch Caribbean Book Club, Eekta Foundation, Afimo Foundation, Tong Tong Fair and Museum Sophiahof. Stories have also been told at the residential communities of Bangun Trisno and Wisma Tunggal Karsa. During these conversations, fellow citizens shared their stories about family histories, traditions, rituals, religion, living and eating culture.
An advisory panel made a selection from more than a hundred submitted objects and stories, which can be seen in the exhibition. In this way, the museum has been researching, collecting and presenting the city's heritage for over fifteen years, always in collaboration with fellow citizens and partners.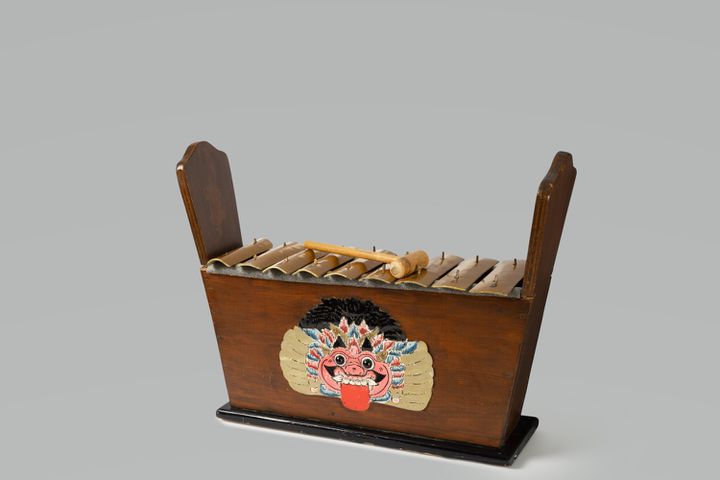 Saron penerus, pekin, percussion instrument (gamelan)
Orlando P. Kromopawiro: "As I play, I think of our ancestors, who were recruited as indentured laborers in Indonesia for work in Surinam. Gamelan enabled them to practice forms of art, amusement and entertainment from Indonesia in Surinam as well. It was a way to combat homesickness for Indonesia. Now we actually do the same. While we play in the Netherlands, we think of Surinam."